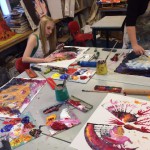 ARTISTIC youngsters are being encouraged to put paint to paper and be part of a music service makeover.
East Sussex Music is re-launching with a modern look and is inviting young people between the ages of five and 18 to enter a competition to design a painting which will be used to promote the new-look service.
"Music isn't just about the skill of playing an instrument – it's about how it makes you feel, whether it be pride in your accomplishment, a boost in confidence, or like a rock star," said Lucy Morgan-Jones, head of East Sussex Music.
Two winning paintings will be chosen that best capture these emotions – one from the five to 11 year old age group and one from the 11 to 18 year old age group.
As well as having their designs widely used in promotional material, the winners will receive a £50 voucher to spend in a store of their choice. Six runners up will receive East Sussex Music t-shirts.
Entrants should send a scan or photograph of their original painting, their name, age and the title of the music which inspired their artwork to collette.orwell@eastsussex.gov.uk
The closing date for the competition is Tuesday, June 30, 2015 and winners will be announced in September.
People can enter online at www.eastsussex.gov.uk/musiccomp
Anyone interested in music lessons can find out more and book online at www.eastsussex.gov.uk/music