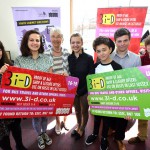 A PIONEERING youth identity and discount card is now accessible to more young people after East Sussex libraries backed the scheme.
The 3i-D card was developed by East Sussex Youth Cabinet in association with East Sussex County Council, Citizen Card and bus providers in the county.
The card allows 11 to 19-year-olds who live, work or study in the county to prove their age and claim some reduced bus travel on Stagecoach services and discounts in shops and leisure outlets.
From Monday, June 1, libraries across East Sussex are promoting 3i-D and are able to approve applications for a card, opening the scheme up to more young people.
Meanwhile, the card is also now being made available for free to youngsters aged 11 to 19 in possession of an i-go card, which allows greater access to leisure activities to disabled young people.
The changes are the result of work by the Youth Cabinet's transport campaign group, which identified promoting and expanding the reach of the 3i-D card as one of its top issues.
Maria Goptareva, 16-year-old Youth Cabinet member for Bexhill and Hastings and deputy member of the UK Youth Parliament, chaired a launch event at Eastbourne Library.
She said: "Many schools have signed up to process 3i-D applications, but they may not necessarily be accessible to everyone, so having libraries help us promote the scheme is fantastic.
"I really hope that young people and their parents see this as a great opportunity not only to get an ID card but to gain access to discounts in shops and on leisure offers and prove their age on buses. It goes further than being just an ID card – it's a 3i-D card."
The card, launched in December 2013, previously relied on individual schools registering to support the scheme, which makes cards available for a one-off charge of £12.
The card, available in two versions, for under-16s and 16 to 19-year-olds respectively, is already offered free to young people from families entitled to free school meals.
The under-16 card ensures youngsters can claim child fares on all East Sussex bus routes through all companies, while the card for 16 to 19-year-olds offers child fares for off-peak travel during the week, at weekends and on Bank Holidays on Stagecoach buses.
Cllr Sylvia Tidy, East Sussex County Council lead member for children and families, said: "The 3i-D card has been a great success in allowing young people to prove their age and claim the discounts they're entitled to with one handy card.
"These changes, which will make the card accessible to a greater number of people, are the result of more hard work by the Youth Cabinet."
More information and details of how to sign up for a 3i-D card are available online at www.3i-d.co.uk or by contacting the Information for Families service on 0345 60 80 192.