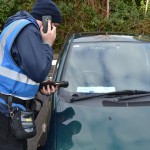 MOTORISTS illegally using Blue Badges to park in disabled bays and avoid parking charges are being given the opportunity to hand over permits.
An amnesty for Blue Badges being fraudulently used in East Sussex will take place next month, giving drivers a chance to escape further action.
The amnesty follows a recent crackdown on the illegal use of Blue Badges and is part of Operation Bluebird, a joint initiative between East Sussex County Council, Brighton & Hove City Council and Sussex Police to tackle the issue.
Anyone fraudulently using a Blue Badge can hand the permit over at a number of locations across East Sussex between Monday, June 8 and Monday, June 22. These include libraries, parking shops and county council offices.
"By using Blue Badges illegally, motorists are making life extremely difficult for those who have a genuine need for the permit," said Cllr Carl Maynard, East Sussex County Council's lead member for transport and environment.
"As well as the problems being caused for drivers with disabilities, the use of each fraudulent badge is costing the taxpayer as much as £5,000 – this is due to the need to install more disabled bays and lost revenue from parking charges."
Cllr Maynard added: "I would urge those illegally using a Blue Badge to do the right thing and take full advantage of the amnesty.  For those who continue to use the permit fraudulently, we will take action."
The government has given £183,000 to Operation Bluebird and this money has enabled the recruitment of blue badge fraud investigation officers operating across East Sussex and Brighton & Hove to improve detection and share intelligence
"We have already seen great results from our efforts, with a number of convictions and the confiscation of Blue Badges that were being used fraudulently," Cllr Maynard added.
"We will continue to crackdown on those breaking the law, but want to offer people the opportunity to take advantage of the amnesty, hand over permits they are not entitled to use and avoid the repercussions."
Operation Bluebird will continue over the next two years and members of the public are being encouraged to report the misuse of Blue Badges by calling 01323 464244  or emailing badgefraud@eastsussex.gov.uk
During the amnesty, Blue Badges can be handed in at the following locations:
Parking Shop, Causeway House, Lewes
Parking Shop, Kings Road, Hastings
Parking Information Centre, Gildredge Road, Eastbourne
St Mary's House, Eastbourne
County Hall, Lewes
Ocean House, St Leonards
Eastbourne Library, Grove Road, Eastbourne
Hastings Library, Claremont, Hastings
Lewes Library, Friars Walk, Lewes
Seaford Library, Sutton Park Road, Seaford
Hailsham Library, Western Road, Hailsham
Bexhill Library, Western Road, Bexhill-on-Sea
There are 24,000 Blue Badges in circulation in East Sussex. The Audit Commission estimates that nationwide 20 per cent of Blue Badges are misused.
Blue Badges are issued to be used only by the named motorist or passenger with a disability. People who qualify can use disabled parking bays and benefit from a range of on-street parking concessions. To find out more about Blue Badges and how to apply visit www.eastsussex.gov.uk