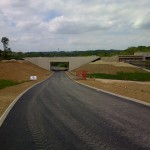 ANOTHER milestone has been reached in construction of the new Bexhill to Hastings Link Road.
The newly diverted Crowhurst Road, in St Leonards, reopened on Saturday (20) after a three-week closure and now carries traffic via an underpass beneath the new road.
Meanwhile, the first phase of highway improvement aimed at improving traffic flow in the area around the Link Road has been completed.
The approaches to the roundabout at the junction of The Ridge and Harrow Lane, in Hastings, have been widened and the road resurfaced.
The second phase, which began on Monday (22) will see improvements to the roundabout at the northern end of Queensway, including extended approach lanes, carried out over a period of around 12 weeks.
Cllr Carl Maynard, East Sussex County Council lead member for transport and environment, said: "The opening of the new underpass is another exciting step towards the completion of the Link Road.
"The associated roundabout improvements are part of our broader plan to improve traffic flow on The Ridge, which will have huge and lasting benefits to residents and the area's economy.
"We do appreciate that this kind of project does bring some temporary disruption, so I'd like to thank motorists for their patience so far and ask them to bear with us while this work is completed."
The final phase of local highway improvements, to be completed once the Link Road opens later this year, will see sections of bus lane introduced on the A259.
The new Link Road is expected to help bring 2,000 new homes, 3,000 new jobs and more than £1 billion of economic benefits to the area.
It will also relieve the high level of traffic congestion on the A259 between Bexhill and Hastings and on other local roads.