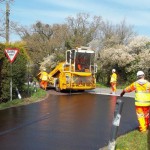 ROADS in East Sussex have been given a new lease of life thanks to a summer highway improvement programme.
East Sussex County Council has taken advantage of the fine weather by surface dressing 35 miles of highway – equivalent to the distance from Eastbourne Pier to Camber Sands.
The six-week programme saw roads coated with hot tar and chippings, a method which improves safety by giving vehicles more grip and protects the surface from pothole-causing frost and water damage.
The process, which is applied to roads showing signs of wear and tear, can extend the life of the carriageway by up to 10 years, at a fraction of the cost of removing and replacing the road surface.
Areas to have benefited from the work include Eastbourne, Hailsham, Hastings, Heathfield, Herstmonceux, Uckfield, Seaford and Wadhurst.
Cllr Carl Maynard, East Sussex County Council lead member for transport and environment, said: "The warmer, dryer weather gives us a valuable window of opportunity to complete work which can only be carried out during the summer.
"Every year we carefully plan our work, focusing on those roads which, if left, would begin to seriously deteriorate and would therefore require more costly, major reconstruction.
"In these difficult economic times it's more important than ever that we provide good value for money and surface dressing is a cost-effective way of providing a smoother, safer ride.
"The work is part of a £20 million investment in East Sussex roads during the current financial year, and will benefit motorists in East Sussex for many years to come."
The £1.6 million programme saw 320,000 sq m of road surface dressed at a cost of £5 per square metre, compared to around £30 per square metre to remove and replace the road surface or up to £100 to completely reconstruct the carriageway.
Details of forthcoming roadworks in the county are available online at www.eastsussex.gov.uk/roads
More information is available by calling the East Sussex Highways contact centre on 0345 6080193 or via Twitter @esccroads