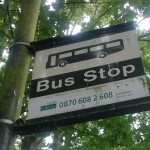 A BUS stop in Eastbourne town centre is being temporarily moved as a result of major building work.
The first phase of redevelopment of the Eastbourne Arndale Centre begins in late July with construction of a new glass atrium at the centre's western entrance, near Banker's Corner.
The erection of scaffolding means Bus Stop E, outside the western entrance in Terminus Road, will be temporarily relocated to the top of Cornfield Road, adjacent to Natwest.
The move comes into effect on Wednesday, July 15 and will affect services operating from Stop E provided by Brighton & Hove Buses, Stagecoach and Cuckmere Buses.
The Arndale redevelopment is being carried out alongside a £3.2 million town centre improvement scheme being carried out by East Sussex County Council and Eastbourne Borough Council.
Work on the project, which will see the creation of a shared space for pedestrians and buses, pavement widening, repaving and installation of new bus stops, street furniture, landscaping and street lights, is due to begin in September starting in Ashford Road and Eastbourne Train Station.
Eastbound Services 12, 12A, 12X, 13X, 56 & 99 are boarding from a temporary stop outside Natwest, Cornfield Road and services 44, 45, 49, & 195 depart from Stop A.
Information about changes to services is available by contacting the relevant bus company.