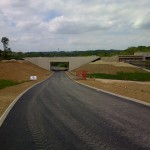 HUNDREDS of amateur runners will have a unique opportunity to pound the Tarmac of a new highway connecting Bexhill and Hastings.
More than 600 people have already signed up for the Bexhill to Hastings Link Road 10k race, to be held on Sunday, September 20 2015.
Participants will get the chance to follow the three-mile course of the new East Sussex County Council highway, as it nears completion.
Following the race, the road will open to traffic later in the autumn once council contractors have completed the finishing touches to the scheme.
Cllr Carl Maynard, East Sussex County Council lead member for transport and environment, said: "It's very exciting to see the Link Road nearing completion after all the hard work that's gone into this scheme.
"The 10k race will give people a one-off chance to follow the entire course of the new road on foot, before it opens to motor traffic.
"The run is another significant event in the progress of a project which will have huge and lasting benefits to Hastings, Bexhill and East Sussex as a whole."
The Link Road is expected to help bring 2,000 new homes, 3,000 new jobs and more than £1 billion of economic benefits to the area.
It will also relieve the high level of traffic congestion on the A259 between Bexhill and Hastings and on other local roads.
People can sign up to take part in the 10k race online at
http://www.sportsystems.co.uk/ss/event/BexhilltoHastingsLinkRoad10K