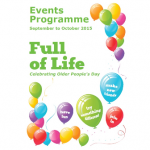 OLDER people in East Sussex are being urged to 'try something new' as part of a major programme of events running across the county.
More than 80 different activities are being held in September and October under the theme 'Full of Life', to mark Older People's Day on Thursday, October 1.
The programme, backed by East Sussex County Council and East Sussex Seniors' Association, features events organised by seniors' forums, the voluntary sector, community groups and housing providers.
Events running this year include sports and leisure activities, afternoon teas and soup festivals, music, films, poetry and social gatherings, fun fitness activities for all levels,  lifestyle shows and two 'Life Story' workshops in Hastings and Eastbourne to link with Black History Month.
Kate Davies, chair of the East Sussex Seniors' Association, said: "This is the eighth year of running a programme of events to mark Older People's Day, and every year it gets bigger and better.
"The variety of activities on offer means that there should be something to suit all tastes and people will have the chance to try something new, get involved and meet new people."
With many of the events featuring taster sessions of activities which run throughout the year, organisers hope they will have long-term benefits for those attending.
Cllr Bill Bentley, East Sussex County Council lead member for adult social care, said: "This programme is a great way to showcase the breadth of activities on offer in East Sussex.
"People may find an activity or group they want to join on an ongoing basis, offering regular activity and new friendships, with all the benefits for health and wellbeing that can bring."
A booklet featuring the full programme of events is available from libraries across East Sussex, online at www.eastsussex.gov.uk/olderpeoplesday or by calling 01273 481565.
The booklet includes details of all events and contact details for people to book places, where necessary. There are also details of how to get to the venue and transport arrangements.