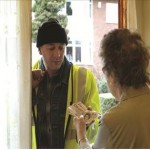 RESIDENTS in Bexhill are being warned to be on their guard for a paving company targeting elderly residents in the town.
A man in his 60s and a retired couple were each persuaded to part with more than £5,000 in cash to have their driveway repaved, after being 'cold called' at home earlier this week.
East Sussex Trading Standards is investigating after concerns were raised about a Kent-based firm.  Anyone who has information about a suspicious cold caller is asked to call the Citizens Advice Consumer Service on 03454 040506.
Officers are particularly concerned about the quality of workmanship being offered – after workmen in the first incident severed an electricity cable beneath the man's driveway – and about possible irregularities in paperwork.
In the first incident, the man handed over £5,500 in cash, but avoided paying the full amount of £8,300 after vigilant neighbours contacted Trading Standards, while in the second case £5,000 was paid out of a total bill of £6,000.
Cllr Rupert Simmons, East Sussex County Council lead member for economy, said: "It's very concerning when elderly people are persuaded to hand over considerable amounts of cash to cold callers.
"We'd always urge residents to tread very carefully and avoid agreeing on the spot to having any work done, and that is particularly the case given the concerns we have about this company.
"Our advice to anyone considering contracting a tradesman is to take their time, do their research and choose a reputable trader.
"I'd also like to commend the vigilance and quick thinking of the residents who contacted us about this company, who have saved their neighbours from parting with even more of their money."
Anyone who agrees to work costing more than £42 has a legal right to a 14-day cooling off period in which to cancel their agreement.
The residents involved in the latest incidents live in a no cold calling zone, where doorstep traders are warned to stay away.
People who want to deter cold callers can obtain a door sticker which they can display at their front door warning doorstep traders to stay away, which is available by calling the Citizens Advice Consumer Service on 03454 040506.