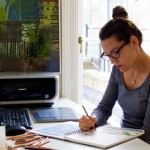 THE artist chosen to create a window design for Newhaven's new library will be running two free family workshops to get people involved in the process.
Zaneta Belasicova was selected to create the artwork for the rear window of the newly refurbished library following a competitive process.
The artist's design idea impressed a panel of volunteers, including library users, and secured the commission from East Sussex County Council's Library and Information service.
As part of the project, Zaneta will share the creative process with members of the public.
The free family workshops will be held between 10.30am and 12.30pm and 2pm and 4pm on Friday, August 28.
The morning session will give participants the opportunity to explore and make views of Newhaven town through silhouettes, paper cutting and collage. It is open to parents and carers with children aged between six and 12.
The afternoon session is open to young people aged 13 and over, and adults. Those attending will be taking part in creative writing exercises and word play.
Cllr Chris Dowling, East Sussex County Council's lead member for community services said "I'm delighted that our panel of volunteers has selected an artist to create an amazing window design for the new Newhaven Library.
"Community involvement is a key part of the commission and the family workshop gives people the perfect opportunity to be part of the process. Once complete, the artwork will contribute to the visitor experience at the new library."
More information about the commission can be found here.