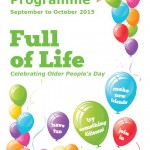 OLDER people in East Sussex still have time to take part in events being held across the county to mark a day which celebrates their contribution to society.
A two month programme of activities is running under the theme 'Full of Life', in conjunction with Older People's Day, on Thursday, October 1 2015.
The programme, backed by East Sussex County Council and East Sussex Seniors' Association, features events organised by seniors' forums, the voluntary sector, community groups and housing providers.
It includes fitness activities for all levels, lifestyle shows, history talks, craft and hobbies, music, films, poetry and social gatherings.
Kate Davies, chair of the East Sussex Seniors' Association, said: "Every year, our celebrations for Older People's Day get bigger and better.
"We're really pleased with the levels of participation in the events held so far, and this year we have more of a focus on activities which run throughout the year, so if people find something they like they can keep doing it."
Events still to come include a 'Good Life' lifestyle show with more than 70 exhibitors at the Winter Gardens, in Eastbourne, craft and hobbies fair in St Leonards and a country walk in Lewes.
Cllr Bill Bentley, East Sussex County Council lead member for adult social care, said: "Older People's Day is about celebrating the role of older people and breaking down negative attitudes and outdated stereotypes.
"We have already enjoyed many interesting events as part of these celebrations and there are a range of really varied, fun activities still on offer at locations across East Sussex in the coming weeks. Many of these are free, all provide a welcoming environment and a chance to meet new people."
The full programme of events is available at East Sussex libraries or can be downloaded at www.eastsussex.gov.uk/olderpeoplesday
The booklet includes details of all events and contact details for people to book places, where necessary, along with details of how to get to the venue and what help is available with transport.
There is a charge for some events. The programme includes contact details to check the latest information about each event.
More information about Older People's Day is available online at www.olderpeoplesday.co.uk
More information about seniors forums across East Sussex can be found at www.essaforums.org.uk or by calling June Pratley on 01273 335467 or emailing june.pratley@eastsussex.gov.uk