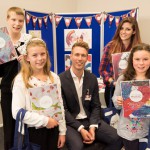 THE county's music service has been given a fresh new look thanks to the artistic efforts of young people across East Sussex.
The revamped East Sussex Music was officially launched at a special event at the Towner gallery in Eastbourne on Tuesday, September 29.
The rebrand includes artwork created by Oriel Baker, 10, from Danehill Primary School and Milly Parker, 17, from Uplands Community College – the pair were winners of a competition which invited young people to listen to a piece of music and paint how it makes them feel.
The winners' artwork, along with that produced by six runners up, will be used on future marketing material for the service.
Lucy Morgan-Jones, head of East Sussex Music, said: "The rebrand has given the music service a more contemporary and lasting feel as we look to the future and it puts forward the message that music isn't just about the skill of playing an instrument – it's about how it makes a child feel, whether it be a sense of accomplishment, a boost of confidence, or like a rock star. "
The winners and runners up of the competition, which attracted more than 250 entries, were presented their prizes at the launch by guest speaker Lee Reynolds.
After learning to play the cello with East Sussex Music, Lee has developed a successful career as a conductor and has recently performed at The Royal Albert Hall, The Barbican Centre and the Berlin Philharmonie.  He is director of Glyndebourne Youth Opera.
Speaking at the launch, Lee said: "Children who have a good music education are better at maths and science and are more engaged with the world.
"I took it for granted that music education was available for everyone and I urge you to keep on fighting and shouting for the brilliance that is East Sussex Music."
The music service has provided a musical education to thousands of children and young people by offering tuition in a wide range of instruments in schools and music centres and providing the opportunity to play in numerous bands, choirs and orchestras across the county.  For more information about East Sussex Music and to book lessons online, visit www.eastsussex.gov.uk/music
Competition results
Winners:
Oriel Baker Aged 10 from Danehill CE Primary School
Milly Parker Aged 17 from Uplands Community College
Runners up:
Chloe Dingle Aged 10 from Danehill CE Primary School
Zara Hamilton Aged 15 from The Lindfield School
Jessica Rutter Aged 5 from Ditchling CE Primary School
Luke Duddy Aged 5 from Ditchling CE Primary School
Annie Smith Aged 15 from The Lindfield School
Jay Muzzelwhite Aged 12 from William Parker Academy
The winning entries can be found on the Your County website www.yourcountyeastsussex.co.uk/news/winners-of-art-competition-announced
The launch of East Sussex Music coincided with the launch of Martlets Music, a new charity offering financial support to young people who want to learn music through tuition, participation and performance.  For more information about the charity visit http://martletsmusic.org.uk/