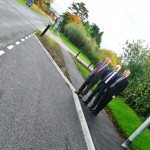 A NEW layby parking area has been provided outside Eastbourne Crematorium – thanks to a community match funding scheme.
Parking on the grass verge by people visiting the crematorium and Langney Cemetery has been a long-standing problem, damaging the grass and leaving the area looking unsightly.
The development in Hide Hollow, which provides space for around 10 cars, came to fruition after Eastbourne Borough Council applied for match funding through East Sussex County Council's Community Match Fund.
It allows borough, town and district councils, as well as community groups, the chance to deliver local transport projects which are of importance to the community but may not be an immediate priority to the county council.
Half of the £51,000 cost of the scheme was provided by the borough council, which was matched pound-for-pound by the county council.
Cllr Carl Maynard, East Sussex County Council lead member for transport and environment, said: "This is a great example of how the Community Match scheme can enable councils to work together to bring about improvements which are of real benefit to local people."
The scheme, built by contractor, Kier, was delivered after the borough council applied for Community Match funding, provided a feasibility design and carried out the initial consultation in the community.
Cllr David Tutt, Eastbourne Borough Council leader, said: "Parking on the grass verge has been an issue for some time so we're delighted we've been able to work with the county council to deliver a permanent, hard-standing parking area for people using the crematorium and cemetery."