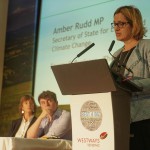 A CABINET minister and a tycoon who became a millionaire at the age of 19 featured at an event aimed at East Sussex's business community.
More than 250 business and public sector leaders attended the second annual BEST4Biz conference, held at the East Sussex National, in Little Horsted, near Uckfield.
The event, organised by the Alliance of Chambers in East Sussex (ACES) in collaboration with East Sussex County Council, focused on the theme of innovation and skills to support business growth.
Participants had the chance to network and learn from the experts on topics such as recruitment, exporting, marketing, public sector procurement and growth plans from district and borough councils, and meet more than 20 exhibitors from the public and private sectors, many of whom sponsored the conference.
Keynote speeches were delivered by Amber Rudd, Hastings and Rye MP and secretary of state for energy and climate change, and Josh Valman, founder of design and manufacturing firm RPD International.
Mr Valman took his first steps into business at the tender age of 13 and by 19 had built a global company valued at £1 million, which now operates in more than 40 countries. He gave delegates an insight into how innovation using modern technology can change business practices.
The event also allowed delegates to find out more about the new Business East Sussex (BES) service, the one-stop shop for business support services and products including a web site at www.businesseastsussex.org.uk.
The service is aimed at supporting businesses at all stages of growth, including start-ups, existing businesses wanting to grow or new businesses attracted to the area.
Cllr Rupert Simmons, East Sussex County Council lead member for economy, said: "The conference highlighted the breadth of business talent in the county and showed why companies are so keen to invest here.
"The feedback we had from delegates was very positive indeed – people were impressed with the calibre of the speakers, the range of information on offer and the chance to network with people from such a wide variety of sectors.
"Working closely with the business community, and enabling companies to learn from each other and share ideas and expertise, is vital in our aim of boosting the economic growth of East Sussex."
The event, held on Friday, October 16 2015, concluded with an ACES awards ceremony at which Horder Healthcare was named East Sussex Business of the Year 2015.
The company, a registered charity, offers orthopaedic and musculoskeletal services from its base in Crowborough and at outreach clinics across the south east.
Any businesses looking to get involved in next year's BEST4Biz conference or interested in sponsoring the event are asked to call 01323 641144.