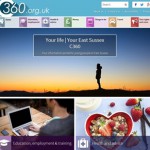 ADVICE and information for East Sussex teenagers is just a click away thanks to a revamped website.
The Connexions 360 site has had a makeover creating an easy to use website with information on careers and training, health and wellbeing, transport and finances.
Designed with the help of young people from the county's Youth Cabinet, www.c360.org.uk is a one-stop shop for teenagers aged between 14 and 19 looking for a range of information.
Nick Steer, a member of East Sussex Youth Cabinet involved in the revamp, said: "Being involved with the redevelopment of c360 was great fun. It was really interesting to see the website develop from the ground up and how we could take into account loads of different views to shape what the site looked like in the end.
"I hope that more and more people will start using this valuable resource now it's so much easier to see all the information in such a user friendly way."
Youth cabinet colleague Charlotte Thomas added: "It is really inspiring and shows how we can give young people the tools to make their life better by using technology. It felt amazing to be part of it."
While the website, developed by East Sussex County Council, is already full of useful information, there are plans to build on this to include even more information and details of local events.
The c360 team are working with careers advisors in schools across the county to make sure the new site incorporates relevant information and advice. This includes the ability to apply online for post 16 courses through UCAS Progress, the national online application system.
Cllr Nick Bennett, the county council's lead member for learning and school effectiveness, said: "We wanted to provide a website that will contain all the information young people need about services and choices available to them, and prevent them from having to scour the internet for the answers.
"We hope that the new site will evolve over time to include more of the information and advice that young people want and need."
As well as information, the website includes details of young people's rights and how they can get involved in the Youth Cabinet or make a comment about the council and the services it provides.