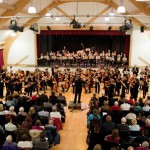 HUNDREDS of primary school pupils will be given the opportunity to hear a full symphony orchestra perform at two concerts next month.
Pupils from across East Sussex will be invited to one of two concerts being performed by the South Downs Youth Orchestra (SDYO) at Uckfield's Civic Centre on Thursday, November 26. The orchestra is one of East Sussex Music's leading ensembles, comprising 85 school pupils from across the county.
The group will perform some well-known music including Lalo Shifrin's Mission Impossible theme, John Williams' Harry Potter Symphonic Suite, Edvard Grieg's In the Hall of the Mountain King and Mozart's Fourth Horn Concerto.
There will also be a special appearance from writer and broadcaster Chris Bowers, who will narrate a performance of Peter and the Wolf.
Chris, who lives in Ringmer, remembers being given a record of Peter and the Wolf for Christmas when he was just six years old.
"My sister and I found it very odd that, as a fairy tale, it didn't have a happy ending. So we wrote one. Two years later, the BBC newsreader Richard Baker came to our local concert hall, the Liverpool Philharmonic, to narrate Peter and the Wolf, so we sent him our alternative ending, and he read it out to a packed concert hall."
The happier ending made it onto the sleeve of the 1971 Classics for Pleasure recording of Peter and the Wolf, also narrated by Richard Baker.
"I feel I have a special connection with Peter and the Wolf, so when SDYO asked if I'd narrate it for the schools concerts, I had no hesitation in saying yes. I expect it'll be quite emotional on November 26."
The group of talented young musicians will also give a public concert on Friday, November 27 at Uckfield Civic Centre with Rimsky-Korsakov's 'Scheherazade' replacing Peter and the Wolf. Tickets for this concert are available on the door from 6.45pm, priced at £6 for adults or £3 with concessions.
For further information, contact East Sussex Music on 01273 336770 or email: music@eastsussex.gov.uk