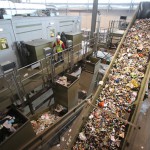 IN RESPONSE to public interest in Uckfield waste issues, an information session for local residents to give them the opportunity to find out more about potential new locations for waste sites has been extended.
The level of interest in the East Sussex County Council, Brighton & Hove City Council and South Downs National Park's Waste and Minerals Sites Plan has prompted an extension to the drop-in session at Uckfield Library on Wednesday, November 25. It will now run from 10am to 7pm.
The three authorities are asking people to say whether the joint Waste and Minerals Sites Plan is sound during an eight week consultation which runs until Wednesday, December 23.
The plan identifies potential recycling and recovery sites to meet the need for increased treatment capacity for commercial and industrial waste and construction and demolition waste. It includes land west of Uckfield – which has already been identified by Wealden District Council as an area of proposed development – as a potential area of search.
The plan does not specify the type of facility that may be developed, but is designed to assist developers find sites suitable for waste development. Any proposed development is still subject to planning permission and public consultation.
"It is extremely important that the public properly understands our waste sites plan and I would urge people to attend the drop in session where all this information will be available," said Cllr Carl Maynard, the county council's lead member for transport and environment.
"The waste sites plan is not technology specific and therefore does not 'promote' incineration on any of the identified sites. It is highly unlikely that a developer would bring forward plans for a large scale incinerator, given the cost of doing so and the need for a guaranteed amount of waste – something that couldn't be assured."
None of the potential sites would be used for landfill and any development which does go forward is likely to use modern, clean technology. Any site would require specific planning permission and would be subject to strict controls.
The drop in sessions, being held across the county, will give residents the chance to find out more about the locations identified in the plan and put their questions to the experts.
Members of the public can comment on the soundness of the plan and whether it is legally compliant. All comments received will be submitted, together with the plan, to be considered by an independent Planning Inspector during a Public Examination process.
To comment, visit consult.eastsussex.gov.uk