THE county's past will be brought to life for children in East Sussex – as a result of pre-historic finds unearthed along the Bexhill to Hastings Link Road. Watch our video here:
The new highway, which is nearing completion, involved a major programme of archaeological excavations by East Sussex County Council's contractor, Oxford Archaeology.
A selection of the finds have been on display in a temporary exhibition at Bexhill Museum and are now being used as the inspiration for a project running in primary schools across the county.
Taking its cue from the British Museum's History of the World in 100 Objects, the council has created a Prehistory of East Sussex in 25 objects.
The finds represent examples of everyday objects made and used by people living in the county and include a Palaeolithic stone axe, Mesolithic flint arrowhead, Neolithic pottery, Bronze Age metal work and Iron Age coins.
They have been grouped into five boxes of five objects – each representing a prehistoric period.
The boxes, which include original artefacts and replica objects made by an artisan craftsman, as well as explanatory cards and pictures, will be made available as an educational resource for primary schools.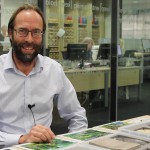 Casper Johnson, county archaeologist, said: "The Link Road presented a unique opportunity to contribute to the work we've been doing over the past decade and create a more complete picture of the history of East Sussex from the ice age to the present day.
"We were able to carry out detailed excavations over a wide area and some of the finds unearthed along the Link Road are of international significance.
"This unique programme will help bring the past to life and give children the chance to touch, observe, draw and imagine the lives of their predecessors from thousands of years ago."
A video featuring Casper Johnson talking about the artefacts which are with youngsters at Newick Primary School is available online at https://youtu.be/0-3h_NGndB0
Any schools interested in using the archaeological resource are asked to contact the Schools Library and Museum Service by emailing slams@eastsussex.gov.uk or calling 01323 466380.
More information about archaeology in East Sussex is available online at www.eastsussex.gov.uk/archaeology