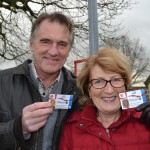 OLDER and disabled bus passengers are being asked to check their details are correct as the deadline approaches for bus pas renewals.
East Sussex County Council has launched an awareness campaign targeting the 60,000 concessionary bus pass holders whose pass is up for renewal in March.
Anyone whose name or address has changed and has not yet notified the council is being urged to do so by Friday, February 19 – or risk a delay in receiving their new pass.
Older person's bus passes, which are marked with a blue stripe, are automatically renewed and sent out at least two weeks before the expiry date.
Meanwhile, holders of disabled passes, which bear an orange stripe, are being contacted to ask them to provide current proof of their disability.
Cllr Carl Maynard, East Sussex County Council lead member for transport and environment, said: "Most concessionary bus pass holders will have their pass automatically renewed.
"However, it's vital that anyone who's moved house or changed their name and hasn't told us gets in touch with their new details by February 19, to ensure they get their new pass on time.
"It's also important that disabled bus pass holders are aware they need to let us have up-to-date proof of their disability before we can renew their pass."
The campaign to make people aware of the deadline date is being promoted via posters on buses.
Anyone who notifies a change of name or address after February 19 could face a delay in receiving their new pass and a £10 administration fee.
More information is available online at www.eastsussex.gov.uk/publictransport, by calling 0300 3309471 or emailing concessionarytravel@eastsussex.gov.uk