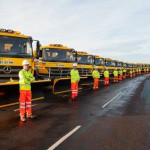 DRIVERS in East Sussex are being urged to slow down in icy conditions – after a spate of incidents across the county.
As wintry weather tightened its grip, East Sussex County Council's highways team has received numerous reports of vehicles crashing, coming off the road or overturning due to ice.
Incidents have been reported at locations including Bexhill, Uckfield, Newhaven, Mayfield, Rotherfield and in the Ashdown Forest, where a vehicle overturned.
While the county's fleet of gritters has been out treating primary routes, the council's head of highways, Roger Williams, urged drivers to slow down and ensure their car was properly prepared to drive in the icy conditions.
He said: "With temperatures falling as low as minus five degrees, our gritters have been out and about around the county every day this week.
"However, we are not able to grit every road in the county and grit is not magic dust – while it reduces the risk of freezing it can never completely eradicate the risk.
"Black ice is not always visible but it can be deadly, so it's vitally important that people slow down and drive to the conditions.
"I'd also urge drivers to make sure their vehicle is properly de-iced before they set off on their journey so they can see clearly out of all the windows, and that they're carrying essentials such as a shovel and de-icer."
Incidents reported in East Sussex in the last 24 hours include:
– a vehicle overturned on the B2026 at Duddleswell, in the Ashdown Forest
– a car on its roof on the A269 between Sidley and Ninfield, where thick ice was reported
– a car coming off the road in icy conditions on the A26 at Beddingham
– another car leaving the road on the A259 at Newhaven
Icy conditions were also reported in Uckfield High Street, on the A26 at Crowborough and in Barcombe and Wivelsfield.
Information about gritting in East Sussex is available online at www.eastsussex.gov.uk/gritting while any problems on the roads can be reported by contacting the highways contact centre on 0345 60 80 193 or via Twitter @esccroads