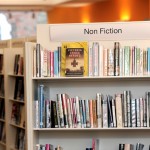 LIBRARY users in Hailsham will be able to benefit from an improved facility as a refurbishment programme reaches its conclusion.
The work at Hailsham Library, which begins on Monday, January 25, will see the existing single-storey extension demolished and replaced with a bright, modern replacement.
The scheme will create a flexible library space which customers can use for study and relaxation, to browse books from the library or access online services on their laptop computer, tablet or other mobile device.
The new extension, which overlooks the Jubilee Garden, can also be used to showcase collections and events which are of interest to customers or the local community.
Work is due to continue until the end of March. The library will remain open while the building work is carried out. The refurbishment programme has previously seen the library redecorated and a new carpet installed.
Cllr Chris Dowling, East Sussex County Council lead member for community services, said: "The new extension will be a vast improvement on the existing building, providing a better environment and overlooking the attractive Jubilee Garden.
"The building work will allow us to create a bright, open space in which people can browse books in the traditional way or benefit from the many online services which are available.
"The library will remain open throughout the work and we'll be doing everything possible to keep disruption to a minimum."
More information about libraries in East Sussex is available online at www.eastsussex.gov.uk/libraries or calling 0345 6080196