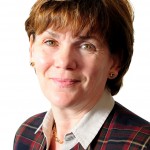 DETAILS have been announced for the next stage of the highways scheme to improve Uckfield town centre.
Highway improvement work will begin in earnest next month as part of the second stage of the Uckfield Town Centre Highway Improvement Scheme, while details of traffic management arrangements for the town during the work have also been confirmed.
Colas, the contractor appointed to carry out the scheme, will mobilise in the week beginning Monday, February 15 2016, with traffic management going live on Sunday, February 21 2016 and the main High Street works to start on Monday, February 22 2016.
The scheme, which affects the High Street between Bell Lane and Church Street, is scheduled to last for eight months, will include pavement widening, new street furniture, upgraded traffic lights, 23 short-term parking spaces and one disabled bay and planting to help mitigate surface water flooding.
The traffic management is designed to allow current access as much as possible except where works are taking place. A one-way system southbound down the High Street will operate for the duration of the scheme with northbound traffic diverted via Bell Lane and the A22 bypass.
In the High Street north of the actual works, flows will be two-way as the works progress up the High Street, with access to Luxford Field car park maintained.
The highway improvement scheme, funded by around £3 million of developer contributions, is aimed at reducing congestion and ensuring the town centre can cope with traffic arising from new housing development.
Cllr Claire Dowling is chairman of the scheme project board, which includes representatives from East Sussex County Council, Wealden District Council and Uckfield Town Council.
She said: "A lot of work has gone on behind the scenes over recent months in appointing the contractor and finalising arrangements for traffic management.
"While there will be some disruption, we feel the traffic management we've chosen is the best way of balancing the need to allow the work to be carried out quickly while minimising the impact on the town centre and ensuring the town, and all car parks, remain open throughout, with no road closures.
"In the long-term, the scheme will make Uckfield town centre a more attractive place for local residents, visitors and shoppers, and ensure the town is fit to cope with increased traffic in the years to come."
The first stage of the highway improvement scheme, at the southern end of High Street, was completed in November 2014.
More information is available at www.eastsussex.gov.uk/uckfield while anyone with enquiries about the scheme is asked to contact East Sussex Highways by calling the contact centre on 0345 6080193 or  via Twitter @esccroads