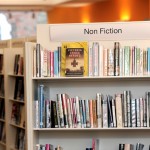 PEOPLE in Hastings are being reminded that work is about to begin on a major library refurbishment scheme due to last for more than a year.
Hastings Library, in Claremont, closes on Saturday, February 20 2016 at 5pm, and is due to reopen in Spring 2017 as East Sussex County Council contractors work on a complete overhaul of the building.
The nearby Children's Library, in Robertson Passage, closes on the same day.  A temporary library will then be set up in Robertson Passage.  This library will open on Monday, March 7 2016 at 9.30am.
The temporary library will remain open until the Claremont scheme, which will bring the adults and children's libraries under one roof, is complete.
The new library will have around 80 sq m of additional public space, more public access computers, free Wi-Fi and new public toilets.
During the closure, library facilities will be available at nearby libraries, including those at Hollington, Ore and Bexhill, while people can also browse the catalogue and download e-books via the council's e-library.
More information is available online at www.eastsussex.gov.uk/libraries or by calling 0345 6080196.