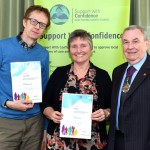 A CEREMONY has been held to welcome the latest additions to an approved East Sussex care provider scheme.
Support With Confidence is a directory managed by East Sussex County Council's adult social care department listing accredited providers who have been vetted and approved for quality, safety and training to ensure they provide a good service to the public.
Providers accredited under the scheme offer services to help people live independently in their own homes, including home maintenance and personal assistants.
In an event at The View Hotel, in Eastbourne, council chairman Colin Belsey handed out certificates to 12 new providers working in Eastbourne, Hastings and Bexhill and Uckfield, with the latest additions bringing the total signed up to the scheme to 146.
Cllr Belsey said: "It was very rewarding to be able to welcome the latest recruits to a scheme which allows people to be confident that they are choosing a provider who's committed to meeting the very highest standards of care."
Phil Hicks is a newly-accredited provider from Bexhill who supports people living with mental ill health and those with dementia.
He said: "The Support With Confidence team identified my training requirements and provided information and support, explaining where to go, who to talk to and how to start out on a new venture at a low cost.
"It has given me the skills and confidence to build my business at my own pace and I'd encourage those who are looking for support and those who wish to support them to engage with the Support With Confidence scheme."
More information on the scheme is available by calling 01323 463440 while a directory of approved Support With Confidence members can be found at www.eastsussex.gov.uk/supportwithconfidence