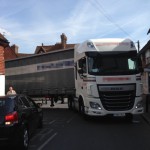 PLANS to ban some HGVs from struggling through the narrow streets of an East Sussex village will go on display later this month.
East Sussex County Council will hold two consultation events in Rotherfield on Friday, April 29 and Saturday, April 30, over proposals to stop HGVs causing gridlock and damaging buildings.
Residents and business-owners will be asked for their views on plans to ban all HGVs over 10 metres long from using the village as a through route.
"We have worked closely with the parish council and the community to ensure that any proposals we put forward tackle the issue without having a negative effect on business in Rotherfield," said Cllr Carl Maynard, the council's lead member for transport and environment.
"The plans include banning only lorries travelling through the village, allowing those drivers delivering to local businesses to continue to use village roads."
It is anticipated the ban, along with new road markings, will reduce congestion by limiting the number of HGVs and minimising the risk of damage to buildings.
The ban will not affect waste tankers travelling to the old landfill site near Dewlands Hill, public transport vehicles, local agricultural vehicles and delivery vehicles.
Cllr Maynard added: "A complete ban on HGVs in Rotherfield is not an option as this would have a massive impact on business and the local community, but we are confident that the steps we are suggesting will address many of the issues in the village.
"I would urge as many people as possible to visit the exhibitions, find out more about the proposals, speak to county council officers and give us their views. The feedback we receive will help shape the final design of the scheme."
The consultation exhibitions will be held at Rotherfield Village Hall in North Street on Friday, April 29 from 2pm to 7pm and on Saturday, April 30 from 10am to 2pm.
Questionnaires will be available at the exhibitions and can be returned to the county council by Friday, May 20, 2016. For those unable to attend the exhibition, plans and an on-line questionnaire will be available here.
Once all responses have been received and reviewed, a report on the outcome of the consultation will be published on the county council website.