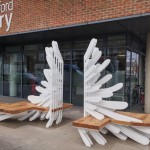 EYE-CATCHING artwork which will give visitors to Seaford's town centre a comfortable place to sit has been installed.
The unique bench was specially commissioned as part of the Transparent art project, funded by Arts Council England, East Sussex County Council and Seaford Town Council.
Created by artist Peter Yarwood, the bench has been installed outside Warwick House, the new purpose built facility which houses Seaford Library and day service for older people, as well as supported living accommodation managed by Saxon Weald.
"This is an exciting addition to the front of the library building and is already starting to spark discussion," said Cllr Chris Dowling, the county council's lead member for community services.
"When the original building was being demolished, a well-used bench near the bus stop had to be removed.  We have been able to replace the seating and add some great contemporary art to the town."
Peter won the commission from East Sussex County Council's Library and Information Service after impressing a panel of volunteers with his design ideas.
Throughout the creative process, the artist shared designs and discussed options with the community.  His final design uses materials which can weather the Seaford environment.
Funding for Transparent Seaford includes £20,000 of Arts Council England Lottery Funding, £2,500 from East Sussex County Council and £100 from Seaford Town Council.
Artists competing for the Transparent commission were asked to submit five images of previous, relevant work and a statement detailing relevant experience, as well as early ideas and information on how the process would be shared with the community.
The selection panel for Seaford included Seaford Library customers, a Youth Cabinet representative, an East Sussex Seniors Association representative, a senior library professional, a curator, a professional artist with a track record in creating public art and local councillor Carolyn Lambert.