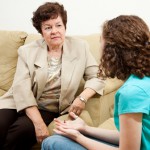 THE SUPPORT offered to missing children and their families has been boosted after three local authorities joined forces to launch a Sussex-wide service.
West Sussex County Council and Brighton and Hove City Council have joined East Sussex County Council in commissioning national charity Missing People to offer families vital support when a child returns home.
The charity will carry out return home interviews with children across Sussex, giving the child a chance to talk about what happened and reducing the risk of them going missing again. Parents and carers will also be offered the charity's 24/7 advice and support.
"Giving children the opportunity to talk to an independent person about what happened before and during the time they were missing is extremely important," said Cllr Sylvia Tidy, East Sussex County Council's lead member for children and families.
"We are delighted to now be working with West Sussex and Brighton and Hove councils to ensure that children and their families receive first class support regardless of which part of Sussex they are in."
Cllr Tidy added: "When children go missing, they often travel across local authority boundaries depending on their family ties, friendship groups, and sometimes people who are targeting them may try to move them across the borders. Working together means we can easily share important information, keep children safe and try to prevent them from going missing again."
With the support of the three local authorities and Sussex Police, Missing People will carry out up to 1,750 return home interviews annually for the next three years. The service will run seven days a week meaning no child will have to wait more than a day after referral to speak to someone.
One parent who has used the Missing People service is Sarah, whose teenage son went missing on numerous occasions and overnight.
She said: "I was feeling alone and had so many thoughts going round my head. A call from Missing People was like a reassuring arm around my shoulder. They helped me so much."
Karen Robinson, director of development and partnerships at Missing People, said: "The charity is delighted to be extending its lifeline when someone disappears in Sussex. We'll be here to offer any child who has been missing a safe space to talk about their worries or troubles.
"Our team of staff and volunteers will contact children, parents and carers within a day or two of the returning to home or care. Supported by our 24/7 Runaway Helpline, we'll be able to support any child at any time of the day or night."
Detective Superintendent Jason Tingley, head of public protection for Sussex Police said:  "Working with partners, we identified the need for Sussex-wide analysis of issues around repeatedly missing and absent children and planned the new service.
"It will help ensure consistent practice for three local authorities in Sussex, who have the statutory obligation to provide this independent service, in working with children who have been missing and are then found, and who are at risk of Child Sexual Exploitation."
The new service was officially launched on Tuesday, April 26 at Amex Stadium in Brighton where speakers included Liz Rugg, East Sussex County Council's assistant director for early help and social care, Sussex Police's assistant Chief Constable Laurence Taylor and a parent and child who have used the service.