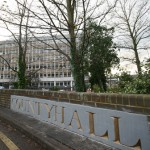 RODMELL CE Primary School will be given time to explore possible partnerships and avoid closure, if council leaders back recommendations.
Members of East Sussex County Council's Cabinet will meet on Tuesday, July 19 to discuss the future of Rodmell CE Primary School and Pells CE Primary School in Lewes following a six week consultation into proposed closures.
The proposals are the result of a thorough review of primary schools in the Lewes area to ensure there are enough places to meet future demand and schools can provide high quality education for years to come.
During the consultation period Rodmell CE Primary School identified possible partnerships and officers are recommending that Cabinet give the school until the beginning of May 2017 to submit a firm proposal.
Alternative plans for the village school put forward by the Save Our Schools campaign group were evaluated by officers, but it was concluded that this proposal was not viable and would not address the challenges faced by the school.
The suggestion of a farm school approach for Pells CE Primary School has been evaluated by officers, but is unlikely to bring about the rapid improvements needed or address the low pupil numbers experienced at the school over many years.
Cabinet will be asked to consider starting the process of closing Pells CE Primary School, which will involve a four week period of representation before a final decision on the proposal.
Stuart Gallimore, director of children services at East Sussex County Council said: "Recommending the closure of a school is not a decision we take lightly, but we need to ensure that every child in East Sussex is given the best possible education and are able to reach their full potential.
"We have carefully considered the views of parents, teachers and the wider community and looked into every alternative option put forward before making these recommendations to Cabinet."
Cabinet will be considering the recommendations, along with consultation feedback and the views of full council, before making a decision.
The full cabinet report can be found here.