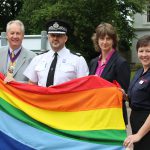 THE rainbow flag is flying in East Sussex as council, police and fire service representatives pledge their support to this year's Brighton Pride.
Cllr Michael Ensor, chairman of East Sussex County Council, raised the flag in a ceremony at County Hall, in Lewes, ahead of this year's Pride celebrations, which kick off this weekend.
He was joined by council chief executive Becky Shaw, Sussex Police assistant chief constable Laurence Taylor and Dawn Whittaker, deputy chief fire officer for East Sussex Fire and Rescue Service.
Cllr Ensor said: "Flying the flag is a very visible way of giving our backing to Brighton Pride and demonstrating our respect for the LGBT community and our commitment to equality.
"Brighton Pride is a major event happening on our doorstep which brings in many visitors from around the country to this area."
Deputy chief fire officer Dawn Whittaker said: "I'm really pleased to be part of this Pride event.  It's my first year as Deputy Chief Fire Officer here in East Sussex and I am enjoying finding out how we mark and celebrate inclusion.
"As a fire and Rescue Service we are here to help everyone stay safe and also our own staff are also part of our diverse community. Pride is just one of the many ways we get involved and I hope everyone enjoys the events and celebrations this weekend and stays safe whilst doing so ."
Assistant chief constable for Sussex Police Laurence Taylor said: "Pride is such an important date in the local community's calendar and we as a force are proud to support and take part in the annual celebrations.
"The rainbow flag will also be flying high above Brighton police station this weekend, which will match our specially painted van."
The Pride celebrations kick off with a community parade starting from Hove Lawns at 11am on Saturday, August 6 2016 and leading to Preston Park, site of the Pride Festival.
The Pride Village Party takes place once again in and around St James's Street, while new Pride Pleasure Gardens featuring festival zones and a community cultural hub will be sited in Old Steine and Victoria Gardens.
More information about the event is available online at www.brighton-pride.org