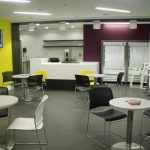 BUSINESSES are being offered the chance to bid to run the cafe at Seaford Library.
The eatery forms part of the £6 million Warwick House development, opened two years ago, which also includes a day service for older people and supported living accommodation.
The successful company will operate as a standalone business running six days-a-week and offering high quality prepared food and drinks to eat in or takeaway.
The new operator would also be able to provide catering services for meetings, functions and events held in the building, in Sutton Park Road.
Potential bidders have until noon on Wednesday, August 17 2016 to complete an online expression of interest.
Cllr Chris Dowling, East Sussex County Council lead member for community services, said: "Warwick House is a state-of-the-art development which in the two years it's been open has developed into a real community hub in Seaford.
"The cafe will have a wide and varied clientele of all ages, including library and day service users, residents and people who just want to pop in for something to eat or drink, or a snack to takeaway.
"This is a fantastic opportunity for a suitably qualified company to benefit from a great location and a regular stream of customers, while providing a high quality service to the community."
The cafe will accommodate up to 14 covers, with additional seating available elsewhere in the building if required. The complex also offers free WiFi to customers.
The operator must be able to accommodate a wide age range, with a demographic ranging from babies to older people, and to cater for people with food intolerances.
Any businesses interested in expressing their interest can do so via the SE Shared services e-Sourcing Portal, a one-stop shop for public sector procurement opportunities in the south east, which can be found at www.sesharedservices.org.uk