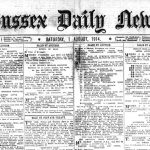 A FRESH batch of First World War newspapers has been published online to mark the second anniversary of a project commemorating East Sussex's role in the conflict.
East Sussex County Council's First World War project launched on August 4 2014 – the 100th anniversary of Britain's entry into the war.
The scheme and associated website has hosted over 170 stories and events, released nine educational packs for schools and assisted in the planning and installation of three memorial paving stones for East Sussex soldiers awarded the Victoria Cross during the war.
The website, which has received more than 110,000 visitors, hosts an archive of digital copies of local newspapers, allowing people an insight into East Sussex life in the run-up to, during and in the aftermath of the war.
The latest batch of newspapers features copies of the now defunct Sussex Daily News from the period from January 2 1914 to August 31 1916. Further editions will be published every month corresponding to the same month 100 years ago.
This new digitised collection of newspapers from the Sussex Daily News consists of hundreds of editions and allows visitors to examine life in East Sussex day by day during the First World War.
The Sussex Daily News will join four other digitised newspapers already available on the website. This collection of digitised newspapers is the culmination of an ambitious two year process to put these resources online.
Cllr Keith Glazier, East Sussex County Council leader, said: "The First World War project seems to have really captured people's imagination and allowed them to see how East Sussex experienced the war.
"The project has also played a valuable role in recognising the heroism of those who fought in conditions of unimaginable horror, and in allowing young people to find out more about how the War affected people, in some cases, not much older than themselves.
"The latest batch of newspapers published allows people to follow the events of the War as it progressed, and also to gain an insight into day-to-day life in wartime East Sussex."
The newspapers can be found on the First World War East Sussex website at www.eastsussexww1.org.uk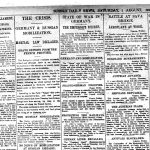 The threat of war hangs heavy – excerpts from the Sussex Daily News of August 1 1914
In 1914, The Sussex Daily News, in its 46th year of publication, covered a broad geographical area, with offices across the county from Battle to Bognor and Brighton to Tunbridge Wells.
Its August 1 issue described 'an atmosphere of general unrest' in the House of Commons as 'the fateful issue of war hung heavily over the house'. An 'intensely expectant assembly' of MPs strained to hear as Prime Minister H.H. Asquith spoke in 'low, scarcely audible tones', urging him to 'speak up'.
The Prime Minister delivered a brief statement of just three sentences, in which he informed MPs Russia had ordered a general mobilisation of its army and navy, with Germany expected to follow suit.
Germany would declare war on Russia later on August 1, with France entering the war on August 3 and Britain a day later.
The imminent threat of war didn't seem to be hampering the tourist trade, with Eastbourne reportedly increasing in popularity with foreign visitors.
The town was 'even more cosmopolitan this season than during previous summers' with many French, Germans and 'Anglo-Indians' in residence, as well as 'a small party of Dutchmen wearing their quaint native clothes and clogs'.
In other news, William Kenward, a labourer from Crowborough was sentenced to six weeks' hard labour after admitting stealing a waistcoat belonging to a fellow farm labourer in Robertsbridge. Kenward told police: "I don't remember much about it, as I had been on the drink."
Meanwhile, William Sivers, from Eastbourne, was fined for using bad language against his wife in Firle Road. In mitigation, he told town magistrates: "If there was not a devil in the world it would not have come out. It was in my temper. Temper is my master."