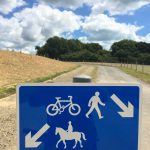 A CEREMONY has been held to mark the official opening of the Greenway running alongside the new Bexhill to Hastings Link Road.
Offering a safe route for pedestrians, cyclists and horse riders, the paths meander alongside the rural section of Combe Valley Way, which opened to traffic last year.
The Greenway extends around 2.5 miles from the outskirts of Bexhill in the west to the edge of Hastings in the east, offering easy access to the countryside for local residents and visitors.
It was declared open on Friday, July 29 2016 by Cllr Keith Glazier, East Sussex County Council leader, in an event attended by local cycling groups.
Cllr Glazier said: "Combe Valley Way has already made a huge impact on cutting congestion and improving transport links between Bexhill and Hastings, and the opening of the Greenway is the next piece in the jigsaw.
"The paths have been designed and constructed to a very high standard and allow direct access to some stunning countryside and links to other walks and paths in the area.
"I hope the Greenway will encourage more people to choose environmentally-friendly means of transport and to get out and enjoy the beautiful scenery we're blessed with in this area."
The Greenway begins in the west at Glovers Lane, Bexhill, with a path for cyclists and pedestrians and a separate equestrian route.
After crossing the Combe Haven stream, the paths merge at Acton's Farm before continuing alongside each other either side of Watermill stream towards the Hillcroft Farm bridleway.
The Greenway skirts the Combe valley floodplain before crossing the Powdermill stream and the 1066 Country Walk – Bexhill Link, before rising up to reach Adam's Farm.
From here, a gentle downhill section leads to Decoy Pond wood and stream, where equestrians take the steeper incline to the hilltop opposite Chapel Wood while pedestrians and cyclists tale a gentler path around a wooded headland.
The Greenway goes through Upper Wilting Farm before reaching its endpoint at the north-western edge of Hastings where Queensway meets Crowhurst Road.
The launch event was attended by representatives from Bexhill Wheelers, HUB, 1066 Cycle Club, Cycle East Sussex, Hastings Greenway Group, Rother Ramblers and Sustrans.
The £120 million Link Road, which opened in December, is expected to bring an estimated £1 billion of economic benefits to the area and deliver up to 2,000 new homes and 3,000 new jobs.