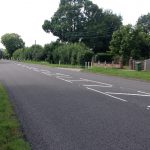 ROADS in East Sussex have been given a summer makeover – during a two-week programme of surface dressing.
East Sussex Highways contractors took advantage of the warmer weather to carry out surface dressing on 27 miles of highway – longer than the distance from Dover to Calais.
Roads across the county given a new lease of life included those in Bexhill, Buxted, Crowborough, Eastbourne, Heathfield, Mayfield, Newhaven, Rotherfield and Seaford.
Surface dressing, where roads are coated with hot tar and chippings, improves safety by providing more grip and can extend the life of the carriageway by up to 10 years.
Cllr Carl Maynard, East Sussex County Council lead member for transport and environment, said: "Surface dressing allows us to protect the county's roads from frost and water damage which can lead to potholes.
"By targeting roads which are most at risk of wear and tear, we can extend the life of the road and prevent the kind of serious deterioration which would require costly reconstruction work.
"In these difficult economic times, it also allows us to extend the life of the road, and create a smoother surface, at a fraction of the cost of replacing the entire road surface.
"Carrying out this work in the summer allows us to benefit from warmer, dryer weather, and to do the work during the school holidays when there's less traffic on the roads."
The scheme saw 34 stretches of road surface dressed in 14 days, covering an area of 266,000 sq m – roughly equivalent to around 40 football pitches.
People can check on forthcoming roadworks and report any problems via the East Sussex Highways website at www.eastsussexhighways.com