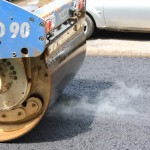 UCKFIELD High Street will open to two-way traffic this weekend as the team behind the £3m town centre improvement scheme marks the final stages of the project.
Contractors Colas and council staff will have a stand in the High Street to provide information about the scheme as the road reopens from 11am on Saturday, September 3 2016.
Funded with developer contributions, the second stage of the improvement scheme is being  carried out by Colas. Work began at the end of February this year and was due to take 32 weeks to complete.
The scheme has created a more attractive town centre with a road system that can cope with increased traffic from new housing in and around Uckfield.
It was overseen by a Project Board comprised of representatives from East Sussex County Council, Wealden District Council and Uckfield Town Council.
Phase 2 of the improvement scheme work has included:
• wider pavements, with Yorkstone slabs
• removal of unnecessary signs and disused street furniture
• improved bus stops with shelters and seats, and real-time bus information
• a 20mph speed limit in the High Street and Church Street
• improvements to pedestrian crossings
• new and improved street lighting
• new street furniture such as bins and benches
• tree planting to help with flooding, along with flower beds to improve the overall environment.
• Resurfacing of the carriageway
More information about the Uckfield Highway Improvement Scheme is available at www.eastsussex.gov.uk/uckfieldtransport