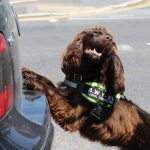 SHOPPERS in East Sussex can meet the four-legged friends fighting the illegal tobacco trade, at a series of events across the county.
East Sussex Trading Standards is running a week-long roadshow in Eastbourne, Hastings and Bexhill to showcase their work and highlight the dangers of illicit tobacco products.
The stars of the show will be four sniffer dogs used by Trading Standards officers to sniff out dodgy tobacco and bring offenders to justice.
Officers will give practical demonstrations of their work with the dogs and be on hand to answer questions from the public.
Lucy Corrie, East Sussex County Council head of communities, said: "The trade in illegal tobacco puts people's health in danger and risks encouraging more young people to smoke.
"It also has links with organised crime, so anyone buying cheap cigarettes or tobacco is putting money into the pockets of criminals.
"We hope these events will allow us to show people how we're tackling this unscrupulous trade and give them a chance to see the fantastic work of the sniffer dogs, who are always very popular with the public."
The events are being held at the following locations and times:
Monday, September 5 2016 – Asda superstore, St Leonards – 9am to 5pm
Tuesday, September 6 2016 – Robertson Street, Hastings (outside Debenhams) – 9am to 5pm
Wednesday, September 7 2016 – Devonshire Square, Bexhill (pedestrianised area outside Post Office) – 9am to 5pm
Thursday, September 8 2016 – Tesco Extra superstore, Eastbourne – 9am to 4.30pm
Friday, September 9 2016 – Terminus Road, Eastbourne (pedestrianised area outside Barclays Bank) – 9am to 5pm
Anyone with information about illegal tobacco sales is urged to report it by calling the illegal tobacco helpline on 0300 999 6 999 or online at www.stop-illegal-tobacco.co.uk