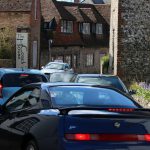 A PLAN to tackle traffic problems in an East Sussex village could take a step closer to coming to fruition – if a recommendation by council officers is approved.
Earlier this year, East Sussex County Council carried out a public consultation on proposals to install traffic lights and introduce a 20mph speed limit in Alfriston High Street.
A total of 54 per cent of those who responded to the consultation approved or strongly approved of the plan, which is aimed at addressing issues caused by a 'bottleneck' in a narrow section of the High Street.
Council officers have recommended to Cllr Carl Maynard, lead member for transport and environment, that the plans be taken forward to the detailed design stage.
If Cllr Maynard approves the proposal at his next lead member meeting on Monday, September 19 2016, detailed plans will be drawn up before a final decision in spring next year on whether to press ahead with construction.
Karl Taylor, East Sussex County Council assistant director for operations, said: "What's clear from the consultation is that people in Alfriston overwhelmingly feel this is a problem which needs addressing.
"We have had to rule out alternative options such as a one-way system or shared space scheme due to restricted space in High Street, safety concerns and the layout of some junctions.
"This leaves us with only one feasible option, and while no solution is going to please everyone, the traffic light scheme received the backing of a majority of respondents, hence our recommendation to Cllr Maynard to progress this scheme to the detailed design stage."
A total of 389 consultation responses were received, 315 of which were from Alfriston postcodes, representing around 38 per cent of the village population – a high level of response for a consultation of this nature.
Of the responses received, 81 per cent agreed or strongly agreed there were traffic problems in the affected area of High Street, 54 per cent approved or strongly approved of the traffic lights plan while 39 per cent opposed or strongly opposed the scheme.
The issues in the High Street are caused by a 60m section of road which narrows to a width of just 3.6m, leading to vehicles mounting the kerb, with the risk of collisions with pedestrians and damage to buildings.
If approved, the proposals would see the installation of 'smart' traffic lights – which change according to the volume of traffic waiting at junctions – at either end of High Street.
They would be accompanied by a widening of the pavement at various locations along the High Street and a reduction in the speed limit to 20mph.
More information is available on the agenda papers for the lead member meeting at https://democracy.eastsussex.gov.uk/mgCommitteeDetails.aspx?ID=177