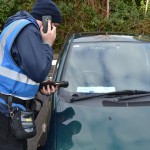 A MOTORIST from Hastings has been fined for displaying a fake blue badge bearing her dead mother's name while on a shopping trip.
Geraldine Roberts, of Ironlatch Avenue, was caught out by an eagle-eyed police officer while parked in a disabled bay at the Tesco Extra store in Church Wood Drive, St Leonards, in June 2016.
In her car was displayed a photocopy of a Blue Badge which she had doctored to insert a new expiry date, a fake stamp from 'Hounslow Council' and the name of her late mother – who died two and a half years ago.
After enquiries by East Sussex County Council revealed the badge was a fake, the 66-year-old admitted the offence and was convicted of misuse of a blue badge at Eastbourne Magistrates' Court.
In a hearing on Friday, September 16 2016, Roberts was fined £320 and ordered to pay £175 in court costs and a victim surcharge of £32.
Cllr Carl Maynard, county council lead member for transport and environment, said: "This was a deliberate, shameless and not particularly sophisticated attempt to cheat the system.
"Every time someone fraudulently uses a blue badge, they are taking up spaces which are needed by people who are genuinely disabled.
"We estimate this kind of fraud can also cost the taxpayer up to £5,000 in lost parking revenues and the cost of installing more disabled parking bays.
"Hopefully this prosecution will send out a clear warning to anyone tempted to carry out a similar offence that it will not be tolerated and we won't hesitate to prosecute offenders."