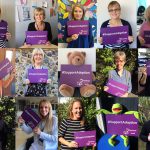 A COUNCIL which is leading the way in adoption services is holding an event to showcase support available for potential adoptive parents.
East Sussex County Council is organising the information event to mark National Adoption Week, which runs from October 17 to 23 2016 under the theme 'supporting adoption'.
The council's adoption service has received an outstanding rating from Ofsted following its last two inspections, in recognition of its pioneering role.
The county was the first to offer 'all-through' dedicated support to people who want to adopt, from the moment they register their interest until after a child is matched with them.
East Sussex also led the way in setting up an adoption child and adolescent mental health service and in holding friends and relatives days to help extended family provide a supportive atmosphere for adoptive parents and the child they care for.
Cllr Sylvia Tidy, East Sussex County Council lead member for children and families, said: "I'm proud of the fantastic work our adoption service has done in recent years.
"Adoptive parents play a hugely important role and can change the lives of children and young people for the better by providing them with a stable, loving environment.
"It's vital they are helped every step of the way and this event will allow people to find out more about adoption, becoming an adoptive parent and the extensive help, advice and support available."
The adoption information event is being held in Lewes on Saturday, October 22 from 10am to 2pm. People can book a place, or get more information, by calling 0300 3309470 or emailing registertoadopt@eastsussex.gov.uk