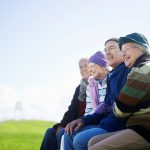 A RAFT of events across the country helped mark Older People's Day 2016 on October 1 – and residents in East Sussex have plenty more to look forward to.
There are a range of activities and events remaining in a two-month 'Full of Life' programme backed by East Sussex County Council and East Sussex Seniors' Association, in partnership with leisure centres, local councils, charities and community and voluntary organisations.
Activities on offer for over 50s include taster sessions in sport and wellbeing activities, health walks, coffee mornings and tours of The Keep – the archive centre for East Sussex.
Cllr Bill Bentley, East Sussex County Council lead member for adult social care, said: "The Older People's Day programme is about celebrating and valuing the role of older people and the huge contribution they make to our community.
"Rather than dedicating a day to showcasing the opportunities available, East Sussex residents are enjoying a two-month programme packed full of events run by older people for older people.
"The best way to combat loneliness and social isolation is to remain active, independent and engaged with society.  Activities included in the Full of Life programme are about having fun, trying new activities, finding local groups and making new friends."
Events held in September have proved a great success with hundreds of people taking part across the county.
Kate Davies, chair of East Sussex Seniors' Association, said: "I am so proud to be a part of the two months that we dedicate to Older People's Day in East Sussex. As chair of ESSA and an older person myself, I know how lonely it can be for some and giving people a reason to get up and out of the house is wonderful. Sometimes something as simple as a cup of tea and a chat with a friendly face can make all the difference to a person's mood. And doing something fun like dancing or craft reminds people to keep having fun so makes them more likely to get out and about again.
"Many of the events go on throughout the year so it's not just during these two months that people can join in. What's important is to promote the positive message that life doesn't have to stop when you get old- we have plenty of fun."
A brochure listing details of the events on offer can be found at eastsussex.gov.uk/olderpeoplesday as well as in local libraries, leisure centres, council offices and through community and voluntary organisations.
Many of the events are free or discounted and some offer free food, drinks and transport.  There are events going on in all areas of the county, including in rural areas.