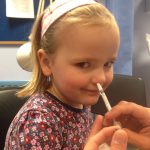 PEOPLE at risk of flu are being urged to make sure they get vaccinated – before winter begins to bite.
Cases of the infectious disease soar during the winter months, but many people could avoid falling victim simply by taking advantage of the flu jab available for free on the NHS.
Older people, pregnant women, carers of older or disabled people, those with reduced immunity, residential care home residents and people with serious long-term health conditions are all entitled to the free vaccine.
Children aged two to seven also receive the vaccine in nasal spray form while frontline health and social care staff are encouraged to get vaccinated through their employer.
The uptake of the vaccine in East Sussex is consistently below national targets in all of these target groups.
Last year, 70 per cent of over-65s and 28 per cent of children aged four and under were vaccinated in East Sussex, down from 72 and 35 per cent respectively in the previous year, but uptake among pregnant women increased from 40 to 42 per cent.
Cynthia Lyons, East Sussex acting director of public health, said: "Flu is an unpleasant illness for anyone but for those in at-risk groups it can put them at risk of serious problems such as pneumonia.
"Last year, uptake of the vaccine was lower than expected, resulting in more people catching the disease and needing treatment, with the resultant pressure on NHS services that causes.
"Having the flu jab is a quick, simple procedure which is the best way for people to avoid becoming a victim of flu and the complications which can result from it."
Symptoms of flu, which is spread by coughs and sneezes or touching surfaces on which germs have landed, include fever, chills, headaches, aches and pains in joints and muscles and extreme tiredness.
It's important that people have their flu vaccine every year, as it protects against different strains of flu which change and evolve each year.
People in at-risk groups can get the flu jab by talking to their GP or practice nurse.
Case studies
Stevi Page, from Herstmonceux, contracted pneumonia after a bout of flu four years ago and as a result developed a long-term problem with asthma.
She said: "I used to get the flu jab every year at the school where I worked, but for some reason in this particular year I just didn't get around to it.
"Having flu was a horrible experience – I had a terrible cough, was aching all over and one minute I was sweating and feeling hot, the next I was shaking with cold and throwing on blankets.
"The pneumonia was like having flu all over again – I felt so weak and completely washed out for a long time, and even now if I get a cold or sore throat I can't stop coughing and have to use an inhaler.
"It's a horrible illness and can have nasty consequences, so for anyone who's not sure about getting vaccinated, I'd say just do it – I always have the flu jab now.
"It's really important – especially if you, or anyone who you're in contact with, is vulnerable. You're not just protecting yourself, but your family, friends and neighbours."
Dr Ron White, a GP at Meridian Surgery, in Peacehaven, said: "With hospitals and GP practices under severe pressure, additional admissions and GP attendances for flu could be the tipping point caused by a condition that flu vaccination could do a lot to prevent.
"I will be getting my flu vaccination and encouraging my staff to do the same, as the evidence proves it makes a difference. We all need to be in surgery, not sick in bed, especially during the flu season.
"I would encourage anyone who is in the target groups to have the flu vaccination unless they have a specific reason not to – it can prevent serious illness and even save lives."