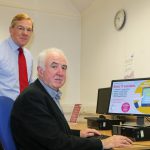 PEOPLE in East Sussex are being helped to help themselves to employment opportunities – thanks to a half a million pound upgrade of library computers.
New computer terminals have been installed at all of the county's 24 libraries in a nine-month scheme to improve East Sussex County Council's network of free-to-access PCs.
The network allows people to access the internet, use email and carry out tasks such as searching for and applying for jobs, printing CVs and job applications and looking up a wide range of information on subjects from family history to healthcare and benefits.
Among those benefitting from the £477,000 upgrade are users of the IT For You scheme, which offers advice and support on using IT to prepare a CV and apply for jobs.
Cllr Chris Dowling, East Sussex County Council lead member for community services, said: "It's vital that our libraries adapt to meet the changing needs of the people of East Sussex.
"The network allows everyone to have access to the internet and to a computer – something that is essential in the modern age.
"The IT For You scheme is an example of how this significant investment in creating a modern library service is helping people to help themselves – to improve their skills and their job prospects."
People can use library computers to access the internet for free, and also benefit from free access to subscription websites such as the Encyclopaedia Britannica and Ancestry.
Library users can also use the latest versions of popular programs to create and edit Word documents, spreadsheets, presentations, newsletters, photographs and graphics.
IT For You courses run on Mondays at Hailsham Library at 2.30pm, Tuesdays at Crowborough at 10.30am and Heathfield at 2.30pm, Thursdays at Uckfield at 10.30am and Fridays at Eastbourne at 10.30am.
People can book a place by calling 01323 463759, emailing phil.lanham@eastsussex.gov.uk or popping into a participating library during the session.
People across East Sussex can use the online library service at www.eastsussex.gov.uk/libraries 24 hours a day to access the e-library, renew and reserve books, update their details and download e-books, or use the automated renewals line on 0345 6080195.
Case studies
Rachel Newton, from Uckfield, wanted to learn some basic IT Skills to aid her job search, having left a previous role after 20 years due to relocation.
She was trained at Uckfield Library by volunteer Danny Gallagher, one of two former IT professionals who volunteer to support IT For You sessions, and learned skills including how to use the latest Word and Excel packages, giving her the confidence to complete an ECDL (European Computer Driving Licence) training course.
She said: "The help and support I was given by Danny and the team was amazing. I have learnt so much in a short space of time and my confidence has gone up immensely.
"I have certainly benefitted hugely from the course and I could see that others were making good progress too.
"I think it's invaluable as a means to get people moving forward, to develop and learn some transferable IT skills or to update existing ones in order to keep up, basically."
Danny Gallagher, from Framfield, said: "The IT For You programme provides a much-needed service for the community and is targeted at the practical needs of a diverse range of individuals, from those seeking employment opportunities to retirees.
"The training is tailored to address the specific needs of each individual who takes part. It's great to see people using the IT skills they have acquired in pursuing new job opportunities or resuming careers that may have been disrupted.
"I find it personally and emotionally rewarding to be in a situation where I can pass on some of my IT knowledge to individuals in the community who may benefit from them."