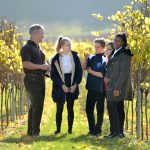 MORE than 150 young people have enjoyed a first-hand taste of the world of work – by visiting businesses across East Sussex.
Youngsters from six secondary schools and colleges visited 18 different businesses and organisations as part of a scheme aimed at helping them find their path in life and boost their career prospects.
Open Doors, which took place from November 7 to 19, was run by East Sussex County Council on behalf of Skills East Sussex, the county's strategic body for employment and skills, as part of the Progress project funded by the Careers and Enterprise Company.
The scheme allowed children to experience real workplaces, see them in operation and gain a practical insight into the wide variety of careers available in the East Sussex area.
Companies and organisations taking part in the scheme included businesses in the engineering, technology and hospitality sectors, local councils and leisure providers.
Cllr Rupert Simmons, East Sussex County Council lead member for economy, said: "By building strong links between education and business, we can give our young people the best chance of future success.
"This scheme offered a valuable window into the world of work and was a glorious opportunity to reveal the exciting innovative businesses that are beginning to thrive in our county.
"It will hopefully help those taking part in the scheme to start to think about what they'd like to do in the future.
"The feedback we've received from schools taking part has been very positive and their pupils seem to have found it a very rewarding experience, allowing them to get a glimpse of life in businesses in a wide range of different sectors."
The Open Doors scheme saw a total of 28 visits, with some participant businesses hosting more than one visit, and included some weekend visits.
Businesses taking part included Hastings-based BMX-specialist and skate park operator The Source, the Rathfinny Wine Estate, in Alfriston, and Uckfield technology company Ashdown Audio Visual.
Schools taking part in the Open Doors scheme were:
ARK William Parker Academy, Hastings
Bexhill High Academy
Chailey School
Peacehaven Community School
Ratton School, Eastbourne
St Catherine's College, Eastbourne
Businesses taking part were:
Airtrace Sheet Metal Ltd, Eastbourne
Ashdown Audio Visual, Uckfield
Cheesemur Building Contractors, Lewes
Corina and Co, Ringmer
Drallim Industries, St Leonards
East Sussex County Council, Lewes
Freedom Leisure, Uckfield
Hastings Borough Council
Horlock Holdcroft , Uckfield
Interface Precision, St Leonards
Marshall-Tufflex, Eastbourne
Paxton Access Ltd, Eastbourne
Rathfinny Wine Estate, Alfriston
The Grand Hotel, Eastbourne
The Source, Hastings
The Work People, Hastings
Torr Scientific, Bexhill
UHV Design / Judges Scientific, Laughton