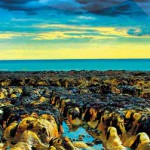 TREES along a busy footpath in Eastbourne town centre are to be removed to ensure pedestrian safety during major construction work.
Work on the Eastbourne Arndale Centre extension resumes this month with hoarding being erected and the northern footpath in Terminus Road being closed.
With more people forced to use the southern footpath in Terminus Road, East Sussex County Council will be removing trees to make sure there is enough room for pedestrians to walk safely, and that the road remains accessible for the duration of the work.
The trees were due to be removed as part of the Eastbourne Town Centre Improvement Scheme which will see the footpaths in Terminus Road widened.
"We are removing the trees earlier than originally planned to make sure that pedestrians can walk safely along one of the busiest roads in the town while work on the Arndale extension continues," said Matthew Reid, Eastbourne Town Centre Improvement Scheme project manager.
"We expect to begin work on the improvement scheme later this year and will be replanting trees in Terminus Road which are better suited to the urban environment."
As well as the widening of pavements in Terminus Road, the scheme – led by East Sussex County Council and highways contractor Costain CH2M – includes the creation of flower beds and the addition of new seating and lighting.