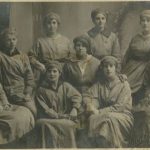 THE part played by East Sussex women during the First World War will be put under the microscope at a talk at The Keep.
As part of a series of events to mark Women's History Month, Dr Chris Kempshall will discuss the work carried out by women in the county between 1914 and 1918.
While men were fighting in France, new opportunities arose for women, who worked in munitions factories, on the land and in military hospitals.
The talk, 'East Sussex Women and the First World War', will take place on Tuesday March 7 between 5.30pm and 6.30pm at the archive centre in Moulsecoomb.
"As a 'Total War', the actions of those on the home front were crucial in maintaining the war effort," said Dr Kempshall, a historian and lecturer specialising in the First World War and the East Sussex County Council's First World War Centenary Project Officer.
"During this talk we will examine whether, at a time when women were heavily prejudiced against, they were sufficiently rewarded."
Book a place at the talk, or find out about other events at The Keep here  or call 01273 482349.  A fee of £3 will be charged for this talk.