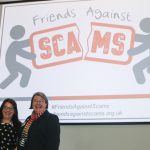 ORGANISATIONS, businesses and groups are being urged to take a stand against scams by signing up to a new partnership.
The East Sussex Against Scams Partnership (ESASP) launched earlier this month with 26 partners and aims to make the county scam free by raising awareness and taking action.
Lucy Corrie, head of communities at East Sussex County Council, said: "Scams and fraud do huge damage to our society, particularly people in vulnerable situations who are deliberately targeted by criminals. Scams defraud people and – in addition to the financial damage – many victims are left feeling socially isolated, often too uncomfortable to tell their friends and family what has happened.  It is time that we took a stand against scams.
"This initiative will play a vital role within local communities in raising awareness of the wide range of scams we are seeing and helping to prevent people from falling foul of scammers. They will also help us have a clearer understanding of the true scale and impact on our residents by helping to improve the way these crimes are identified and recorded."
Businesses, organisations, clubs, councils, societies and groups joining the newly-launched partnership will be asked to sign up to a charter, pledging their support and taking action.
They will be expected to display posters and literature, share messages on scams-related issues on their social media accounts and websites and run Friends Against Scams awareness-raising sessions for staff, members and volunteers.
"Friends Against Scams – a National Trading Standards Scams Team initiative – aims to tackle the lack of scams awareness by providing information to enable communities and organisations to understand scams, talk about scams and share messages about scam prevention and protection," Mrs Corrie added.
"I'd encourage anyone interested in helping to stop scams to visit the Friends Against Scams website www.friendsagainstscams.org.uk and sign-up."
For more information on the ESASP and how to get involved visit www.safeineastsussex.org.uk/ESASP.html
Current ESASP partners include;
Action in Rural Sussex (AIRS) Age Concern Eastbourne Age UK East Sussex Association of Carers Care for the Carers Citizens Advice East Sussex Eastbourne Blind Society East Sussex Community Voice delivering Healthwatch East Sussex East Sussex County Council East Sussex Federation of Women's Institutes East Sussex Fire & Rescue Service Fat Promotions Limited Home Instead Senior Care (Bexhill & Hastings) Home Instead Senior Care (Eastbourne) Home Works National Westminster Bank plc (branches within East Sussex)  Office of the Sussex Police & Crime Commissioner Possability People Right at Home (Eastbourne, Bexhill and Seaford) STEPS Sussex & Surrey Associations of Local Councils (SSALC) Sussex Community Development Association (SCDA) Sussex Elders' Commission Sussex Neighbourhood Watch Federation The Best of Eastbourne Wealden Dementia Action Alliance (WDAA)