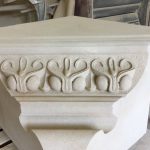 HASTINGS Library will reopen later than expected – to give contractors more time to protect the fabric of the historic building.
The library, in Claremont, has been closed since February last year for a complete revamp. The finished building will also house the children's library, which is currently based in Robertson Passage.
The facility, in the Grade II-listed Brassey Institute, was due to open its doors again this year, but the reopening is now scheduled for spring 2018.
East Sussex County Council contractors have already installed a new roof and lift, rewired the whole building and replaced internal lighting.
However, the council says the refurbishment has unearthed a number of additional structural issues which need to be carried out in line with conservation guidelines.
Cllr Bill Bentley, East Sussex County Council lead member for community services, said: "The Brassey Institute is a fantastic asset to Hastings and the refurbishment will ensure it can be enjoyed by generations to come.
"Not only are we creating a new library, we are also protecting the history and heritage of Hastings, and understandably that will take time.
"With any project of this nature it's not unusual that additional issues arise which can take more time and the most important thing is to ensure we do the job properly and take every care to protect the historic building.
"As it's not possible to allow people to safely use the library while works are ongoing, after careful consideration we've taken the decision to put back the opening date.
"We'd like to apologise for any inconvenience and to thank the people of Hastings for bearing with us while we complete a project which will create a modern, vibrant library in a stunning setting."
The delay has been caused by structural issues identified following the removal of paint and coatings from the front facade which will require repairs and, where necessary, replacement of stone and mortar.
When this is complete, contractors will remove the scaffolding at the front of the building and begin internal fitting out of furniture, computer and books.
Cllr Godfrey Daniel, county council member for Hastings – Braybrooke and Castle said: "While it's obviously disappointing that the opening will be delayed, I know that Hastings will have a library that the town can be proud of for generations to come, something I have worked hard to achieve."
The temporary library currently running from the children's library will continue to operate as at present while a LearnDirect service will continue at Muriel Matters House, in Breeds Place, Hastings.
Alternative library facilities are also available at nearby libraries including those at Hollington, Ore and Bexhill, while people can also use the eLibrary to browse the catalogue, renew items and download eBooks, eAudiobooks and eMagazines.
More information is available online or by calling 0345 6080196.