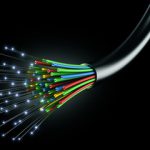 AN AGREEMENT has been reached with Virgin Media to allow fibre broadband cabling work to restart in Lewes.
Bosses at East Sussex County Council had recently called a temporary halt to activities in the town after complaints from residents about communication and reinstatement of roads, pavements and driveways.
Work will now restart on Monday 10th July, after a positive meeting between the authority and the cable company.
Virgin Media has agreed to improve engagement with residents and to be sympathetic to the historic nature of the town when carrying out the work.
Rupert Clubb, Director of Communities, Economy and Transport at the County Council, said: "We totally support the investment that Virgin Media is providing in our broadband network. Improving broadband connectivity will deliver a huge boost for homes and businesses right across Lewes.
"However, the work on the ground must be carried out to a proper standard, and the company must improve its engagement with residents. Following our meeting, we are pleased that Virgin Media has agreed to improve in these areas."
The County Council will monitor the works when they restart to ensure that the issues are being addressed and that the agreed plan is being followed.
A spokesperson from Virgin Media, said: "Following a productive meeting with East Sussex County Council last week, we have made significant progress and agreed to make improvements in our network expansion plans in Lewes.
"As part of our joint agreement, we have committed to more regular meetings with East Sussex County Council, supported by a dedicated Virgin Media taskforce to implement improved communications, procedures and supervision of the build.   As a result, we are delighted the council will allow permits for work to commence again".
Ends