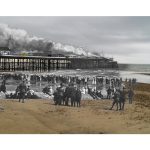 THE story of a fire which ravaged Hastings Pier 100 years ago has been retold on the latest addition to a website commemorating life in East Sussex in World War One.
Almost a century before the 2010 fire which devastated the Victorian structure, the pier suffered severe damage in a lesser-known blaze believed to have been sparked by a discarded cigarette.
To mark the anniversary of the fire on Saturday (JUL 15), the story has been retold, illustrated by striking pictures by Hastings photographer Kieron Pelling, which merge pictures of the fire with modern day views of the recently redeveloped pier.
The story and pictures are published on East Sussex County Council's First World War website, which also includes archive newspaper scans, memorabilia, pictures and learning resources about the county's role in the war.
Cllr Keith Glazier, County Council leader, said: "Most people will remember the 2010 fire which caused such devastation to Hastings Pier, but the first fire was just as much of a big story at the time.
"The anniversary of the 1917 fire gives us the ideal opportunity to reflect on the blaze and the photographs Kieron has put together provide a really evocative view by merging the past and the present."
Kieron Pelling said: "My then and now photographs help me show how much and how little has changed in East Sussex since World War One.
"These images, in particular, demonstrate how resilient the pier has been, and the important role it has played in the Hastings community. I hope my pictures help bring the past to the present."
Built in 1872 by noted seaside architect Eugenius Birch, the pier was a popular location for performances by military and marching bands during the war.
The fire began on the western side of the pier's ornate pavilion, and fanned by a south-westerly wind, the entire building was soon consumed by flames. Fortunately, despite the fact it started on a busy summer Sunday afternoon, the blaze claimed no victims.
The Hastings and St Leonards Pictorial Advertiser reported that only the 'strenuous exertions' of the fire brigade had prevented the whole pier from being consumed.
Meanwhile, the Hastings and St Leonards Observer, while describing the fire as a 'catastrophe' for the town, noted it also presented an opportunity to 'bring the structure up-to-date'.
Repairs would not be completed until 1922, when a new, less ornate pavilion opened, and the pier would continue to delight tourists and locals until it closed due to safety fears in 2006.
It reopened in 2009 but a year later the pier would once again be gutted by fire before reopening with a new, stripped-back modern design in April 2016.
A Hastings Pier Charity spokesman said: "We are thrilled Hastings Pier has been featured in the World War One project and congratulate Kieron on such beautiful images.
"We'd like to thank everyone who has supported Hastings Pier over the years, and we look forward to celebrating many more anniversaries in the years to come."
The story and pictures can be viewed on the East Sussex First World War website at www.eastsussexww1.org.uk