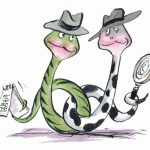 CHILDREN in East Sussex are being enlisted to help a team of 'animal agents' as this year's Summer Reading Challenge gets underway.
Youngsters are being tasked with joining creatures furry, scaly and slippery, who are out to crack a case at the local library with the help of their friends.
The annual challenge, which involved more than three quarters of a million children last year, encourages youngsters aged four to 11 to read six library books during the summer holidays.
They receive a sticker – some emitting mysterious smells – for each library book they read, filling up their collector's folder, with illustrations by bestselling illustrator Tony Ross, and helping their animal pals crack the case.
The scheme will include hands-on sessions at which children can get up close and personal with various creepy-crawlies and small animals, to be held this weekend (SAT 22) at libraries in Bexhill and Seaford.
Cllr Bill Bentley, East Sussex County Council lead member for communities and safety, said: "Every year, the Summer Reading Challenge does a great job in encouraging children to keep reading during the summer holidays.
"The animal agents theme is a great way of capturing their imagination, fuelling their love of reading and keeping their literacy skills sharp during the long, hot days of summer."
To help schools promote the challenge, the council has produced a video telling the story of the evil Agent Z's attempt to sabotage the scheme with a secret device that sucks all the ink out of library books. It can be viewed at www.Youtube.com/EastSussexCC
Meanwhile, animal handling workshop provider Zoolab is running free sessions on Saturday (22) at which children can handle creatures such as snails, millipedes, spiders, snakes, frogs, ratz and lizards.
They will be held at Seaford Library from 11am to noon and at Bexhill Library from 2.30 to 3.30pm. Tickets can be booked by visiting the library or calling 0345 6080196 and asking to be put through to Bexhill or Seaford Library.
Children who complete the Summer Reading Challenge will be entered in a competition to win a Kobo eReader which they can use to borrow thousands of eBooks from the East Sussex eLibrary.
More information is available online at www.eastsussex.gov.uk/libraries