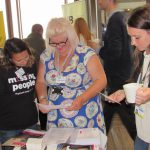 CYBERBULLYING, radicalisation and homelessness were among the topics discussed at a major community safety conference in East Sussex.
Safer People Safer Places, held in Eastbourne, brought together representatives from 37 organisations ranging from local councils and the emergency services to the health, education and voluntary sector and the armed forces.
The event, organised by the multi-agency East Sussex Safer Communities Partnership, highlighted work done across the county to protect vulnerable people including the Think: Protect: Connect scheme aimed at protecting children from cyberbullying and radicalisation.
Other topics included a talk from Sussex Neighbourhood Watch on cybercrime and scams, discussion of the issues faced by homeless people and a talk by Sussex Police on how modern slavery affects the lives of people in the county.
The conference also outlined the partnership's priorities for the next three years: working to tackle fraud and rogue traders targeting vulnerable people; cybercrime; exploitation of vulnerable young people; and modern slavery.
Speaking on behalf of the partnership, Cllr Bill Bentley, East Sussex County Council lead member for communities and safety, said: "It's vital that we can ensure our residents – particularly vulnerable people – feel safe in the communities they live in.
"This is an issue which crosses organisational boundaries so it's important that partners work together to adopt a co-ordinated approach to the issues we face.
"The conference was very useful in highlighting the fantastic work that's being done across the county to keep people safe and to allow partners to focus on our priorities for the years ahead.
"I was particularly pleased to see such a strong representation from the armed forces – it's vital that we ensure everything possible is done to ensure the wellbeing not just of veterans but of currently serving military personnel."
People can find out more about the work of the Safer Communities Partnership via its website at www.safeineastsussex.org.uk